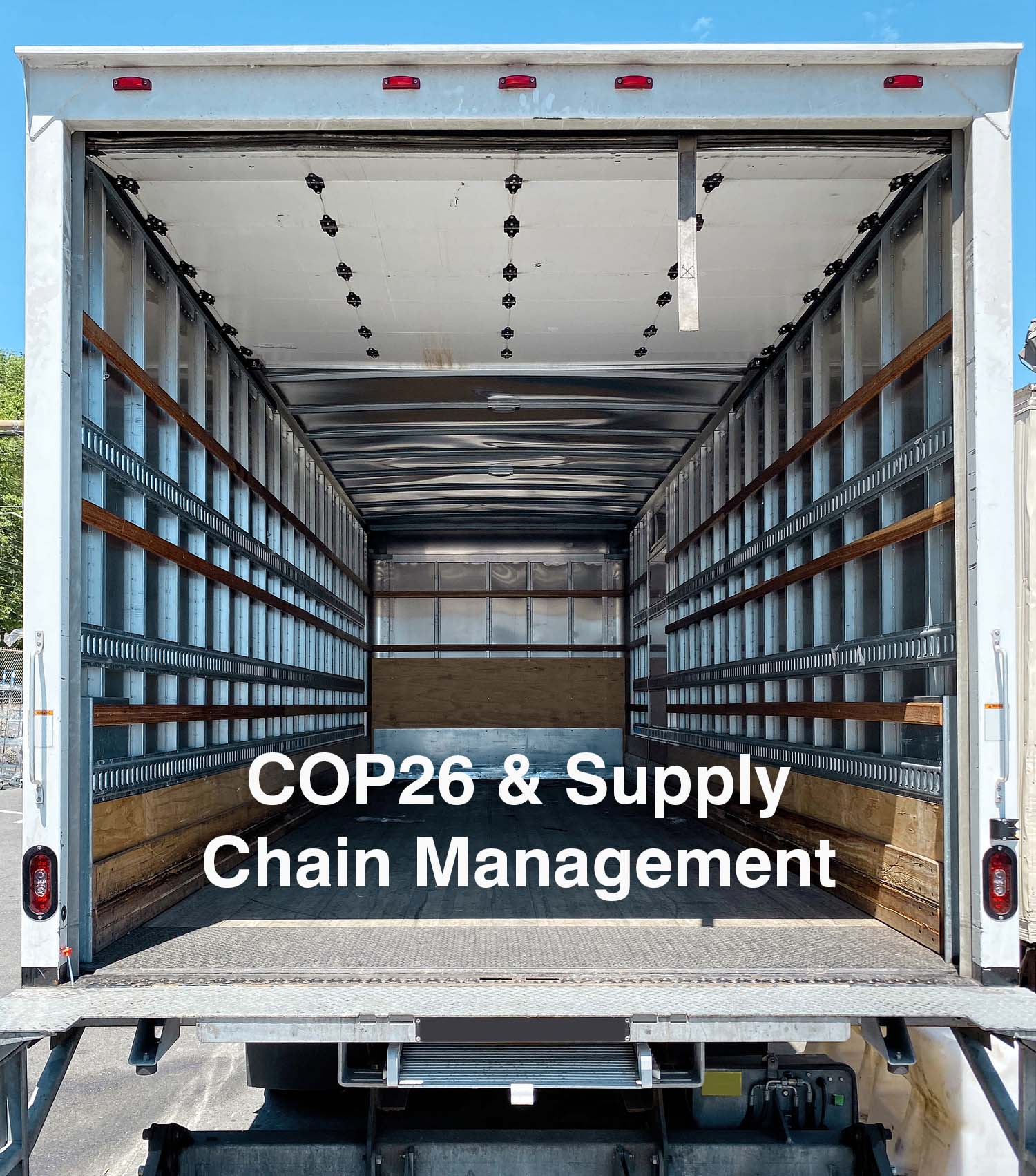 Are we doing
our bit for
climate change?
The 2021 United Nations Climate Change Conference that gets underway in Glasgow this weekend has been 'held up as one of humanity's last chances to slow global warming'. Whilst we and many other businesses fully support the bigger issues and the drive to NetZero, as a supply chain and logistics company, we must look at some of the more 'on the ground' solutions that will help pave the way to emissions reduction.
Improve freight transport
According to Transport & Environment, this alone could reduce land freight emission by 10% by 2050. The latest figures from the Department of Transport (DofT) show that up to 30% of HGVs in the UK are running empty and there has been little improvement over the last 18 years.
However, Christopher Snelling, head of policy at the Freight Transport Association (FTA) believes that if 'no operators bothered to do anything proactive, the natural level of empty running could be in excess of 50%. So, some work has been done in this area, but we could do more.
Do we charge more for running empty?
Transport & environment (T&E) used their own European Union transport roadmap model to calculate improvement to land freight emission by using smarter logistics. Looking at figures across the EU, the model illustrates how pricing pressure could reduce the use of empty or partially filled trucks by 5% by 2030. At the moment, 20% of trucks across Europe run empty, so could we see a reduction as pricing policies are introduced? This could be accelerated by the introduction of gradual increase in diesel tax.
Combining these measures along with improved fuel efficiency and increase rail modal share could reduce road freight emission by 36%. However, the model shows that the trajectory is not sustainable and by 2035 emissions will start to rise again due to demand.
Let's fill trucks that are running empty
One solution is filling trucks through collaborations such a freight exchange. It is the practice of matching empty or partially empty HGVs with compatible loads and has traditionally been used by hauliers to find work. Now there are a range of platforms in use.
Operators like Haulage Exchange use a smart matching system to locate compatible loads in real time so that hauliers aren't travelling home empty.
Downloads.net works a little like Uber sending the haulier an alert when a load is added that matches their requirements, and it works in reverse i.e. when a haulier is available with capacity.
A lot of companies are keen on this type of collaboration but there are still those that are hampered by service agreements, and in some sub-sectors, empty running just cannot be avoided. What logistics does is find that extra 0.5 – 1% improvement.
Packaging optimisation
It's a question of remove, reduce and recycle.
Yes, packaging functions as a protective layer, but in terms of reducing carbon emissions and reducing cost, packaging design considers marketing, ease of distribution, storage and sustainability among other factors.
Packaging optimisation involves using the least amount of material for the least amount of money whilst maintaining a good level of quality. It will also involve replacing packing materials with lighter, recyclable ones, helping to reduce packaging's carbon footprint, energy consumption and material costs.
The use of smart packaging will has grown and with its key benefit of goods traceability, it stands to reason that there has had good uptake in the pharmaceutical and food industries. The drawback is that not all smart packaging components are recyclable, but when there is a reduction of +- fifty-seven million tons of food waste in the US supply chain alone, perhaps the cost is offset by the improved efficiency in the chain.
Optimise the distribution network
Ensuring distribution centres are optimally placed in relation to supply and demand is one way of mitigating rising fuel consumption and cost. Near shore and on shore suppliers are starting to make more sense. Does it really make more sense to make a shirt locally than to produce and ship it from a distant destination? Will retailers be able to build the relationships needed with reliable local suppliers that can supply goods at short notice?
Adjusting the consumer 'I want it now' expectation
The pandemic has made an adjustment to consumer demand. According to Supply Chain Management Review, whilst the pandemic forced a shift to online shopping, and an 'I want it now" attitude, they became more aware of the intricacies of supply chain management challenges as issues arose.
This seemed to result in a consumer that was a little less impatient, and more forgiving. But will this attitude signal a movement away from an era of customer impatience, or will they revert to the norm. The timing seems right, not just to improve the way in which we transport goods to reduce carbon emission, but to improve our own consumer attitudes and behaviour for a better world.