Freeports
The first round locations have been announced.
What does this mean and how do organisations know its a good idea to set up there?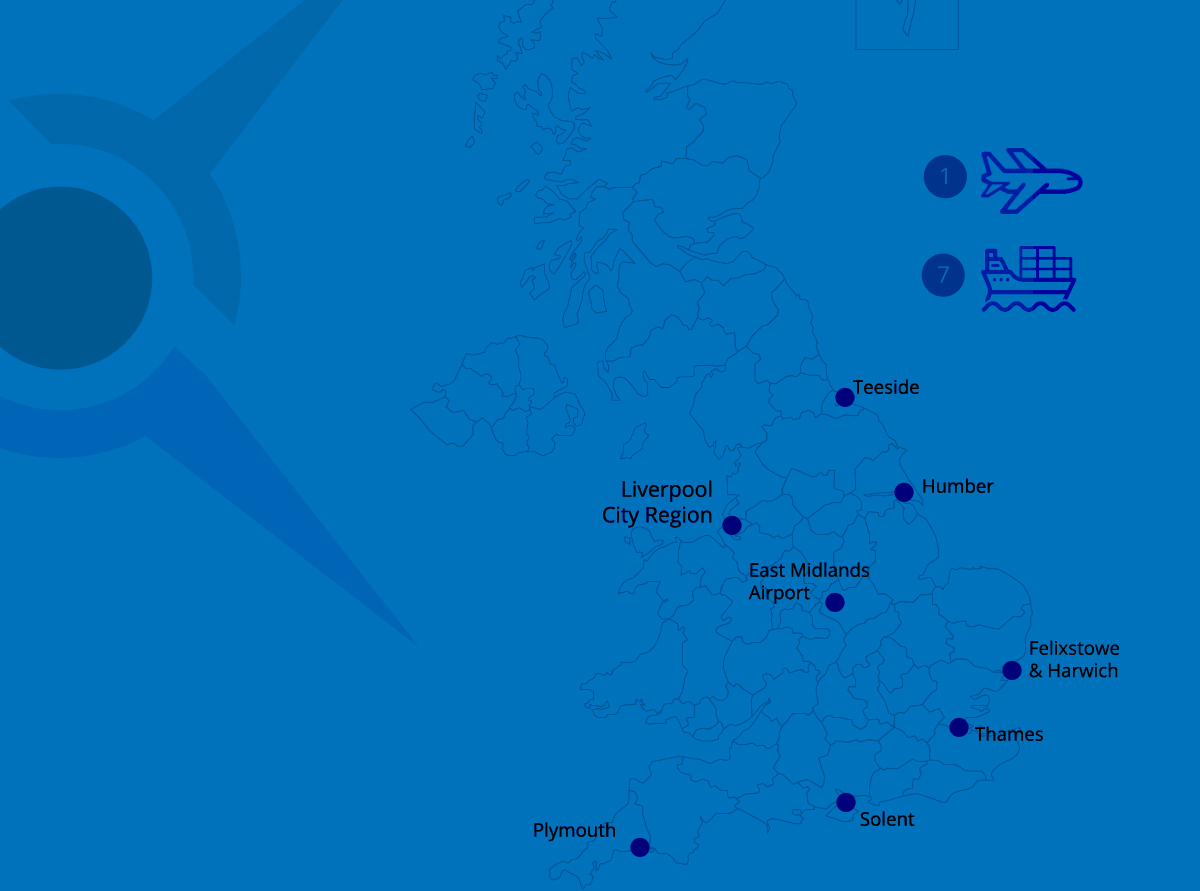 The winning Freeport locations in the UK
In February 2020 the UK Government launched a consultation into the viability of creating a number of freeports (or free trade zones) in the UK. The consultation invited interested parties to submit proposals describing what a freeport would do and how it would operate.
The government's consultation invitation set out a number of parameters and strategic aims for the freeport such as establishing freeports as national hubs for global trade and investment across the UK, promoting regeneration and job creation for the immediate and surrounding areas & creating hotbeds of innovation.
Following the submission of tenders, in early February 2021, the UK Government have now announced where, in the first round, the freeports will be established, they are East Midlands Airport, Felixstowe & Harwich, Humber, Liverpool City Region, Plymouth and South Devon, Solent, Teesside and Thames.
What are Freeports?
Freeports are usually located around shipping ports, or airports and usually involve links to both to ensure multi-model transport capability.
The UK Government described freeports as "secure customs zones located at ports where business can be carried out inside a country's land border, but where different customs rules apply. They can reduce administrative burdens and tariff controls, provide relief from duties and import taxes, and ease tax and planning regulations"
In simple language they are places where business can be done faster and at lower cost.
What are the tangible benefits outlined in the budget?
You can read the detail on page 62 of the UK Gov's budget paper, all of which will be subject to the normal parliamentary scrutiny and approval, but to summarise what the chancellor outlined, the following benefits will be available for any business, or other organisation, getting involved with the freeport scheme:
An enhanced 10% rate, vs the current, non Freeport rate of 3% of Structures and Buildings Allowance – so you can count more of your costs towards reducing your corporation tax.
An enhanced capital allowance of 100% for companies investing in plant and machinery for use in the freeport. The current limit is £1million – so you can count more of your investment against corporation tax
Full relief from Stamp Duty Land Tax on the purchase of land or property within the freeport – so the cost of investment is lowered
Full Business Rates relief in Freeport tax sites in England. Relief will be available to all new businesses, and certain existing businesses where they expand – so operating costs would be lower
Subject to Parliamentary process and approval, the government also intends to make an employer National Insurance contributions relief available for eligible employees in all – so operating cost could be lower
How do you know it makes sense to set up in a freeport?
The aim of the freeport initiative is to encourage economic activity that will encourage investment and create jobs but what needs to be done to make this happen?
Businesses and organisations need to physically locate themselves and their operations in a freeport. They need to bring goods in and out, perform services and set themselves up administratively to ensure they are safe, legal and efficient. In order to do that you need to plan and set up a supply chain and to make the decision in the first place you need to understand the cost of that supply chain vs. other alternatives. The question is how?
Total Delivered Cost or Total Cost of Acquisition are methods of understanding the total cost of getting a product to market, looking at the cost of buying, transporting, storing, assembling the components into a finished product and then storing, transporting and delivering that product into the hands of a customer. Completing this exercise is the best way to understand that making the move will a) deliver the benefits expected and b) be the best option from a Total Delivered Cost perspective.